Let's play what if...
If Manuel Pellegrini had taken an English side who had only made it into the Premier League in 1998 - then dropped down, before being promoted again - to the semi-finals of the Champions League, how would he be viewed? If he then took that same side to a second placed finished in the Premier League, his CV would be looking good. Then he gets the gig at Manchester United, but David Gill is...
4 tags
8 tags
will the deep-rooted problems in spanish football...
Lighting up La Ciudad del Futbol in Las Rozas - a municipality near Madrid and the home of the RFEF - are two European Championships, one World Cup and countless trophies from under-age successes. Domestically there's the small matter of Real Madrid and Barcelona too, the two teams who were pretty much solely responsible for FIFA's team of the year and who's regular meetings -...
talking points from the la liga weekend
Changing of the guard? Barcelona are still highly likely - bar a mahoosive collapse - set to win the La Liga title back from Real Madrid. However, Saturday's win for Mourinho's men over La Blaugrana was the second of the week, both significant in their simplicity. If the Portuguese coach's job was to belittle the Barcelona regime which has thrilled Europe for so long, it would...
3 tags
why betis needn't feel too down and espanyol won't...
Jornada 24: Espanyol vs. Real Betis; Cornella-El Prat To coin an old cliché, football is a very funny game. Another illustration of this took place at Cornella-El Prat on Sunday night as an Espanyol team, inflated with the confidence that not so long ago resided in Real Betis, took on Los Verdiblancos from Seville. [[MORE]] Since the appointment of Javier Aguirre - he replaced Mauricio...
mini clasico, morbo and second teams
On the Catalan coast a fixture all-too-frequently gracing screens worldwide was staged in front of the home side's largest attendance of the season. Except this wasn't El Clasico, rather the mini version, the youngsters continuing the feud one league down from La Liga – a concept not familiar in England.[[MORE]] That's because in Spain, reserve teams can compete in the second...
five things from la liga: week twenty-two
one. one win between the top eight. Granada's win against floundering Real Madrid, Valencia and Barcelona's draw, Malaga's point against Zaragoza and defeats for Levante, Rayo Vallecano and Real Betis meant that Atletico Madrid's 1-0 win over Los Beticos was the only win for any of La Liga's top eight heading into the weekend's fixtures.[[MORE[[  two. espanyol...
The past is an illusion: On Beticos, Sevillistas,...
afootballreport: By John Ray Over the course of the past six months I've spent a considerable amount of time conducting research on both nationalism and market integration in football as part of a long-term thesis project. On January 9th and 10th, I attended both Real Betis and Sevilla's Copa del Rey matches. The disparate experiences seen in the neighborhoods that house...
15 tags
five things from la liga: week twenty
one. Real Sociedad end Barca's unbeaten season. We should have seen it coming. Anoeta has hardly been the happiest of places for Barca to visit in recent years, and on Saturday night that again proved the case. Familiar circumstances dominated the early exchanges, first Messi and then Pedro putting La Blaugrana 2-0 up. Game over? No. Just before half time Chory Castro pulled one back, then...
3 tags
mauricio pochettino reading...
Southampton fans may well be deflated to see Nigel Adkins leaving his post as manager after a successful spell which saw two promotions but MP (it's easier that way) may not be all that bad. We've always liked him here at futbolgrande and in hindsight he may feel he should have taken the Sampdoria or Valencia jobs. Anyway, what his appointment in England does mean is that...
2 tags
espanyol 3-2 mallorca
Raul Baena scored a late winner as Espanyol clinched a crucial three points against ten-man Mallorca in a relegation battle which had five goals and one red card. [[MORE]] It was the home sides third straight win at Cornella-El Prat, moving them four points above the drop zone - Joaquin Caparros' side ended the night still in the bottom three. The game struggled to find any rhythm...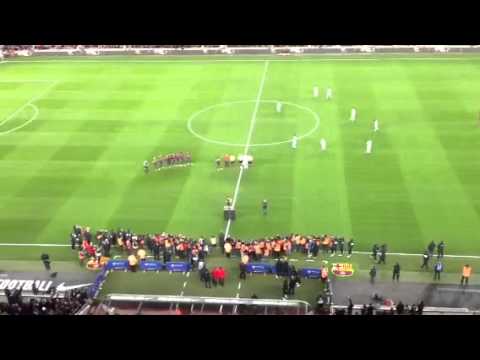 15 tags
five things from la liga: week nineteen
OK, we admit it, we've been negligent. Week eighteen admittedly passed with us failing to register a look back on what had actually happened. To all eight of our readers, we are sorry. BUT. We're back with a round up from week nineteen - the half way mark in La Liga - and promise not to leave you hanging again. So here it is, the five main talking points from the weekend's...
2 tags
"I think they are most responsible for why football is what it is around the..."
– Jose Mourinho's ode to English football and the English FA
2 tags
premier league clubs seeking their own michu
As Swansea's summer Spanish signing continues to draw thousands of 'bargain of the season' comments each week, a host of Premier League clubs are lining up a move for the next La Liga bargain.[[MORE]] While Espanyol were beating Celta Vigo 1-0 on Saturday, representatives from Reading and Chelsea lined the stands to watch Celta's forward Iago Aspas - Swansea are also...
3 tags
report: espanyol 1-0 celta vigo
Sergio Garcia's first half goal was enough to help Espanyol to back-to-back home wins, moving them level on 18 points with Celta Vigo who were forced to leave Cornella-el Prat pointless on Saturday. [[MORE]] It was new boss Javier Aguirre's second win since being appointed at the end of November - his first coming against Celta's Galician rivals Deportivo de la Coruna. The...
20 tags
club-by-club top performers so far in 12/13 (part...
Following on from Part One last week, here is the second - and final - part looking at each club's most recognisable achiever in the first half of 2012/13…[[MORE]] MALLORCA - Tomer Hemed The Israeli has settled into Island life in his second season and, in turn, he started the campaign with an exceptional scoring rate. He even scored on two days in the same game. Impressive hey?...
20 tags
club-by-club top performers so far in 12/13 (part...
Before anyone shouts at us, this list doesn't necessarily feature each clubs's statistically best player. In some cases it may, but in other cases it may recognise an unexpected contribution of a player to their club, or a player exceeding all expectations. So take your mind off the Christmas gap in La Liga by reminiscing on some of our top performers from the first half of the...
16 tags
five things from la liga: week seventeen
With one final twist - if they were't already damned as it was - the 2012 half of the La Liga season came to an end with another Real Madrid defear in Andulucia. 'BUT WHAT ELSE HAPPENED?' We hear you scream. Read on friends…[[MORE]] one. Roque Santa Cruz rises from the bench. He's played second fiddle to Javier Saviola for most of the season, but on Saturday...
9 tags
five things from la liga: week sixteen
Whether this is a valid excuse or not, we have been very busy recently. Due to this busy-ness here is an abridged version of 'five things from…' Who knows, you'll probably prefer it. [[MORE]] one. Barca. Barca. Baaaaaarca. Atletico had already failed two tests, this was their third trick away tie where they were expected to prove themselves. They were better, but they...
16 tags
five things from la liga: week fifteen
one. Messi breaks Mullers record. The woodwork took a beating, Betis were good but Barcelona still won. Lionel Messi's brace in the 1-2 win took him above Gerd Muller's record of goals in a calendar yet set in 1972. Here are some more numbers thanks to @MessiStats: 86- goals for club and country in 2012; 63- minutes per goal; 21- most hat-tricks by a Barca player in all competitions;...
2 tags
"Personally I think La Liga is the the best in the world. It's got the best..."
– Malaga's American centre back, Oguchi Onyewu, settles the debate, once and for all, on who which league is the best in the World.
19 tags
five things from la liga: week fourteen
one. Pellegrino pushed from Mestalla bench. It has been a bad week for people called Mauricio; first Pochettino and now Pellegrino. Of those with MP initials only Manuel Pellegrini remains in a job. Journalists, sub-editors and bloggers can at least breathe a sigh of relief.Valencia decided enough was enough this weekend following a 5-2 defeat at home to Real Sociedad. Couple that with no league...
3 tags
what if all the home teams win?
futbolgrande flutter: week fourteen. Four games today and they get gradually more mouth watering as the day heads towards tomorrow. [[MORE]] First up is Getafe- who have won their last two in the league- against Malaga. It is not outlandish to suggest that the home side will fancy their chances against a Malaga side who until last weekend had been struggling for form in La Liga. That is...
3 tags
20 tags
five things from la liga: week thirteen.
one. Beñat y brilliant Betis beat Los Blancos. Jose Mourinho is surely sick of the sight of Seville. Having already fallen to Sevilla earlier in the season it was Betis' turn on Saturday tonight. Their main man Benat scored the only goal in the first half as they put last weekend's derby defeat behind them. Most worryingly perhaps was how pedestrian Madrid were in chasing the game....
4 tags
19 tags
five things from la liga: week twelve
one. Unlikely sources seal Seville derby. Sevilla's need was perhaps greater; out of the traps like you would not believe- goal scorers which you might not believe too. Reyes and Fazio, a forward and a centre half who have struggled to regularly start this season had helped themselves to two goals each by half time. Ruben Castro pegged one back after Ruben Perez had seen red for Pepe Mel's side,...
9 tags
futbolgrande flutter: week twelve
The La Liga weekend is once again upon us mere mortals, and there are some tasty treats to look forward to. It's been branded the fiercest derby in Spain because of the competitive balance it presents; it's Sevilla v Real Betis tomorrow night. Before that Barca and Real Madrid host Zaragoza and Athletic Club while two out of form sides- Celta Vigo and Mallorca- meet in Galicia. Here is...
8 tags
18 tags
five things from la liga: week eleven
one. Topsy-turvy Barcelona win another ding-dong battle. 3-0 soon became 3-2 before Leo Messi gave the scoreline a more comfortable feel in a game which certainly shares similarities with Barca's battle in Depor. Never the less they won again to continue their remarkable start to the La Liga season, while Messi now has his sights set on Gerd Muller's 85 goals in a calendar year after...
9 tags
futbolgrande flutter: week eleven
Week eleven is upon us. It kicked off with Granada registering a surprise win at Betis last night and continues with nine more fascinating fixtures this weekend. Barcelona and Real Madrid have testing trips to Mallorca and Levante respectively while Atletico will be keen to restore the winning feeling against city rivals Getafe. Here is our treble: [[MORE]] one. Rayo host Celta in today's...
3 tags
SOS, shares, social media y sidlowe
We are aware of the cons, not necessarily in agreement, but aware. After all, football has hardly done itself any favours in recent years. [[MORE]] In England time and time again we see clubs on the verge of extinction. Southampton and Leeds have both returned from the abyss, Portsmouth and Plymouth are trying to do the same while as low down as the Conference South we see clubs like Truro City...
17 tags
five things from la liga: week ten
one. Neither Ronaldo nor Messi on target. Not since December last year has a La Liga weekend passed without a goal from one of the big two. Until now. Barcelona and Real Madrid still recorded their standard wins- Celta and Zaragoza dispatched respectively- but neither had their poster boys on the scoresheet. The Catalans remain eight points clear of the chasing Real. [[MORE]] two....
2 tags
9 tags
futbolgrande flutter: week ten
The Copa del Rey was this week's distraction, but never fear La Liga is back this weekend. Barca and Madrid both have winnable home games while Atleti have a tricky tie at Valencia. Athletic are desperate for a win, they travel to Granada and on Monday night Pepe Mel takes charge of his one hundredth Real Betis match. Here's our treble… [[MORE]] one. Valencia welcome unbeaten...
4 tags
zlatan was no longer zlatan
We've just got round to reading the English translation of Zlatan Ibrahimovic's book and it is as interesting as the guy himself is. Although not exactly groundbreaking revelations, we thought we'd share with you some of his thoughts on his time in Barcelona and particularly his views on Pep Guardiola… [[MORE]] 'I thought he was alright in those days, an okay bloke....
15 tags
five things from la liga: week nine.
one. Anything you can do, we will equal. Barcelona moved first. They moved emphatically. Away at Rayo Vallecano they predictably ran riot. Their 5-0 win included two more assists for the league's top provider Cesc Fabregas. It also included two more goals for Pichichi front runner Leo Messi. Real Madrid moved the following night at Mallorca- a game that a month ago would have looked like a...
10 tags
futbolgrande flutter: week nine..
After five wins and two defeats for the Spanish sides in European action this week La Liga is back. This weekend we are being treated to the Galician derby, away days for Barca and Real Madrid and a Monday night scorcher as Real Sociedad travel to Valladolid. So, here is our pick of the betting… [[MORE]] Iiiiiin one, Valencia travel to Real Betis today buoyed by a midweek away win. Roberto...